Kopalnie Krypto Team - Tuesday 1 November 2022
Mining profitability of Chia illustrated with our miner example
In recent years - and even months - the global situation has drastically changed. The same applies to the cryptocurrency industry - the previous trends have completely reversed. Mining cryptocurrencies based on PoW, which used to be very profitable not long ago, is now proving to be unprofitable. Fortunately, the market does not tolerate a vacuum, so attractive alternatives quickly emerged. Learn more about the profitability of mining Chia.
Why did mining based on PoW stop being profitable?
There are many reasons, but we can distinguish two main causes. Firstly, it was due to a global energy crisis, which caused colossal increases in electricity prices. Secondly, one of the key players in the market - Ethereum - decided to transition from PoW (Proof of Work, where the Ethereum network was secured by energy-intensive graphics cards) to PoS (Proof of Stake, where the Ethereum network is secured by a large amount of the cryptocurrency ETH). A significant number of miners disconnected from this blockchain, and their hardware joined other blockchains. Consequently, mining other PoW-based cryptocurrencies became significantly more difficult. With the same hardware as before, we have much lower chances of finding a block, we receive much fewer cryptocurrencies, and at the same time, electricity prices continue to soar.
The best way to analyze this situation is through a specific example. In the charts below, you can see how the mining difficulty of the largest PoW-based cryptocurrencies (including ETC, RVN, KAS) has increased. The most drastic spike was recorded on September 15, which was when Ethereum transitioned to the PoS algorithm. Despite that, for almost three months, the situation not only did not return to normal but still looks very unfavorable from the miners' perspective.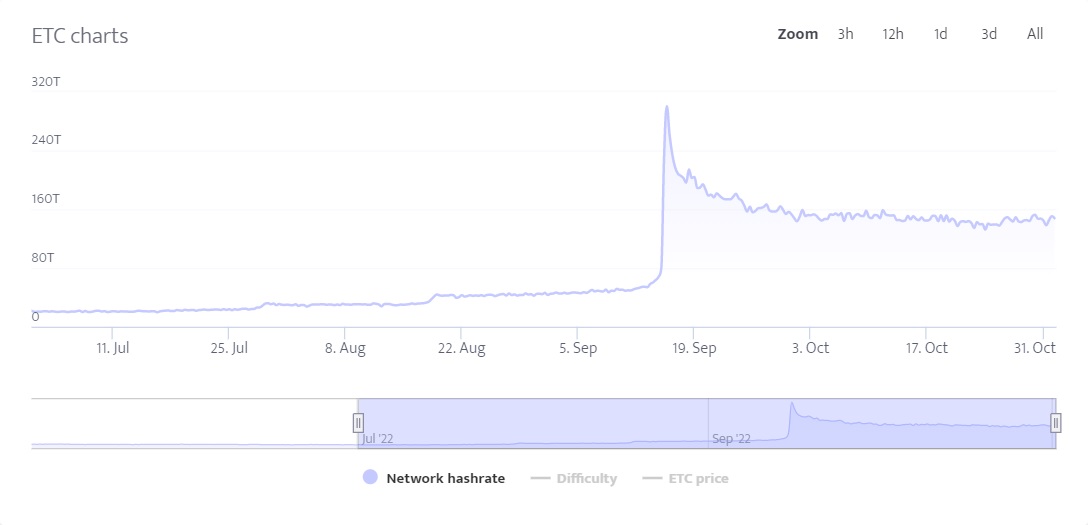 Source: https://minerstat.com/coin/ETC/network-hashrate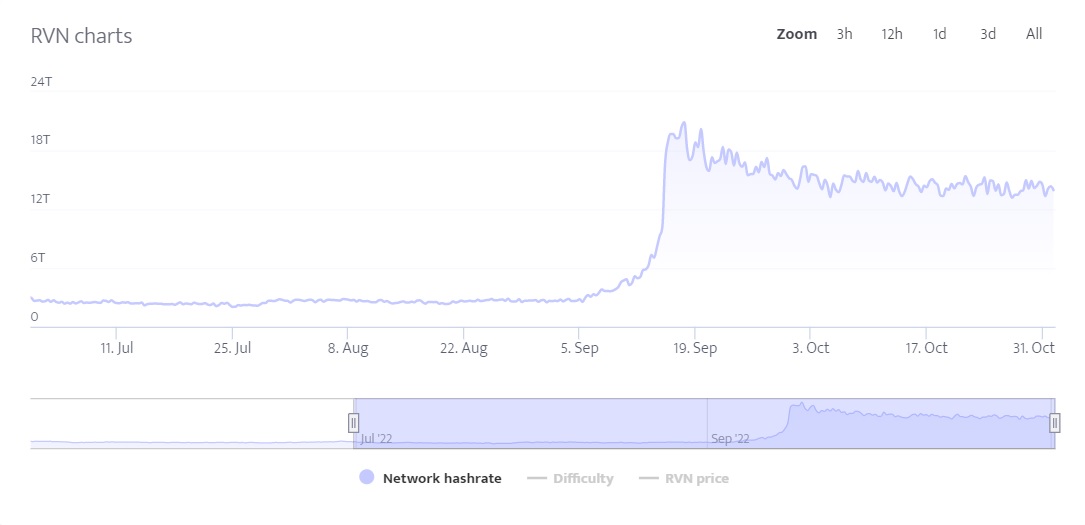 Source: https://minerstat.com/coin/RVN/network-hashrate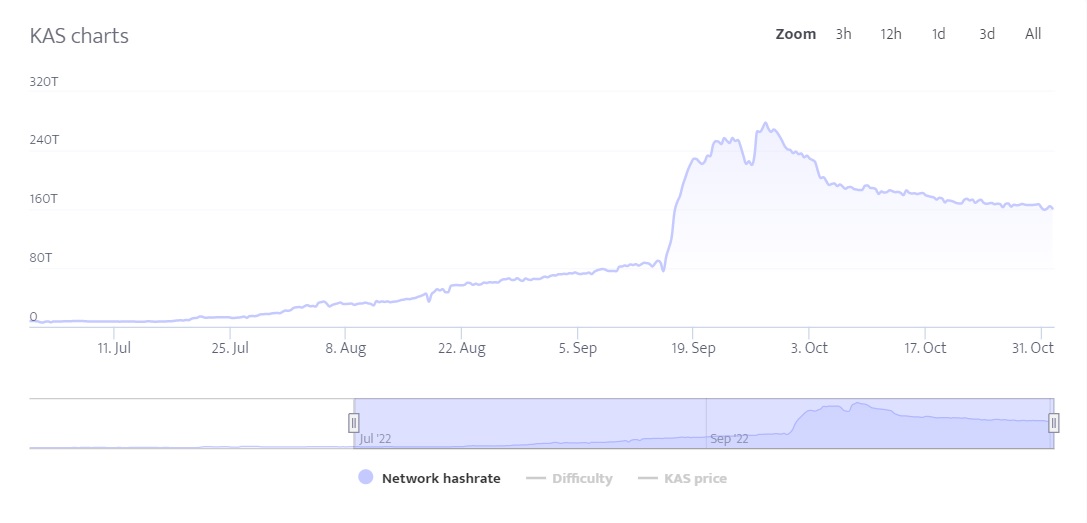 Source: https://minerstat.com/coin/KAS/network-hashrate
Alternative: Chia, the PoST-based cryptocurrency
At first glance, this looks disastrous. Fortunately, those miners who keep their finger on the pulse can quickly resolve the crisis by switching to alternative cryptocurrencies. Currently, the most profitable solution seems to be farming (mining) crypto based on the PoST algorithm (Proof of Space and Time, where the network is secured by disk space). Chia is one such cryptocurrency.
Again: instead of using generalizations, we wanted to demonstrate the profitability of mining Chia based on credible data. Investing in a Chia miner requires a considerable financial outlay, so we rejected calculations from less reliable calculators or similar tools as unsatisfactory. We assumed that hard data could only be obtained in one way: by examining what our Chia miner can achieve.
Profitability of Chia mining with Crypto Mines miner
We conducted the calculations on a self-assembled Chia miner worth 262,000 PLN. This equipment includes powerful components: 2 x Xeon v4 processors, 512 GB of DDR4 RAM, 1000 TB of HDD disk space, a 4 TB SSD disk, and a 2 TB SSD NVMe disk. In our calculation, we considered the current network space of 21.2 EiB and assumed the current price of Chia cryptocurrency (XCH) at $31.61 (1 $ = 4.73 PLN) for a 1000 TB farm. We rounded the results to whole numbers solely to facilitate calculations and ensure their transparency. Here are the results:
Current Price
(32 $)
Maximum Price
(1500 $)
Daily XCH Mining
1 unit
1 unit
Monthly XCH Mining
30 units
30 units
Monthly Profit in USD
960 $
45,000 $
Monthly Profit in PLN
4540.80 PLN
212 850 PLN

Of course, for the calculations to be complete, additional costs of Chia farming must be taken into account. Besides purchasing the mining rig, key factors include electricity consumption and equipment depreciation. So, let's go through them step by step.
Regarding electricity consumption, we considered the average electricity price in Poland, which is 0.66 PLN per 1 kWh (1000 W). Since the energy usage by the Chia mining rig is not constant, we have to assume that it consumes anywhere from 600 W to 800 W per hour, with values usually closer to the lower limit. By multiplying this by 24, we get the daily consumption, resulting in our rig using 14.4 kWh to 19.2 kWh per day. Multiplying this by the average electricity price, we calculated that the daily maintenance cost of the rig is 9.50 PLN to 12.67 PLN. Monthly, this amount increases to 285 PLN to 380.10 PLN, and yearly, it becomes 3420 PLN to 4561.20 PLN. It's worth noting that electricity consumption can be reduced, for example, by creating a farm based on server solutions such as RACK cabinets. Additionally, the room where the farm will be located will be thermally insulated - a 20 m2 area can easily maintain room temperature without turning on the radiator.
As for depreciation - after a year of use, the equipment purchased as new for 262,000 PLN should not lose more than 5% of its value. At the time of writing this article, we are in an advanced stage of a bear market, the demand for mining equipment is low, and the market already faces component shortages, which has led to stagnating electronics prices. It is highly likely that a mining rig purchased at this time will be worth even more during a bull market when there is high demand for such equipment and limited supply.
Bear and bull markets - when to invest and when to reap rewards?
The above calculations prove that farming with an energy-efficient Chia mining rig is profitable even during a deep bear market. Does this mean you should immediately sell the mined cryptocurrencies? Absolutely not. Selling during a bear market would be a very bad move. The whole point of investing in mining equipment is to earn substantial profits, even if it takes a few years for those profits to materialize. It's best to keep a cool head and wait until a bull market - that's when cryptocurrency prices are at their highest, and the return on investment far exceeds the incurred costs.
During a bear market, it's recommended to focus on investing - this is the best time to find the best investment opportunities. When a bull market arrives, farming becomes more difficult as more people join the network, and the rewards are spread among a larger number of participants. Additionally, other foreseeable factors, such as component availability issues and equipment price increases, can further complicate farming. Those who survive the bear market can expect substantial payouts during the bull market when profits are realized.
How will XCH price develop?
As I write this article, the price of 1 XCH is $31.61, and the market capitalization stands at around $170,000,000. Chia ranks 190th among all cryptocurrency projects in terms of market capitalization. Isn't that too low? Actually, it's excellent because it shows how undervalued this project is. Considering its level of innovation, entering the top 50 seems very likely (if not certain), especially if the project continues to develop at its current pace. Currently, the Chia Network is investing in the ecosystem and profitable business partnerships - a marketing campaign is yet to come. When users have access to a complete and functional product, the project will gain even more traction.
Considering all of this, I believe that it is highly probable that Chia has a significant chance of experiencing substantial growth in the next bull market. Of course, I must emphasize that these predictions are based on my experience and observations of the market. However, everyone should form their own opinion about the Chia project and its chances of success. Staying informed through our website will certainly help.
Chia Network is an innovative, energy-efficient, and secure project. While all of this is very important, concerning the price of XCH, it's crucial to focus on the project's tokens. While fiat money (the one we use every day) constantly loses value due to central banks printing more money, thus driving inflation, digital money typically has built-in mechanisms to defend against inflation. When Satoshi Nakamoto created the first cryptocurrency - Bitcoin (BTC) - in 2009, he implemented a mechanism to reduce inflation (halvings). What are these halvings - In the case of BTC, once every four years, the reward for mining a block is halved, automatically reducing inflation by half. In the long run, halvings stimulate the price of BTC to increase.
As this mechanism worked very well for BTC, the creators of the Chia Network decided to implement it in XCH as well. However, halvings reducing inflation by half occur every three years for XCH, not every four years like in BTC. This means that inflation on XCH will decrease even faster than in the case of Bitcoin. At the time of writing this article, there are about 5,400,000 XCH in circulation (unlocked supply). Let's take a look at the upcoming halvings:
From 2021 to 2023 - 2 XCH per block,
From 2024 to 2026 - 1 XCH per block,
From 2027 to 2029 - 0.5 XCH per block,
From 2030 to 2032 - 0.25 XCH per block,
From 2033 and indefinitely - 0.125 XCH.
Thanks to these halvings, the inflation on XCH will decrease over time - just like with BTC. Considering the growing adoption of the Chia Network, including collaborations with major entities like the World Bank and support for other notable projects (such as Climate Warehouse or Carbon Opportunities), it is only a matter of time before demand starts to surpass supply for this token, and the XCH price begins to rise.
Chia mining profitability: the next bull market and XCH's potential
Based on the above calculations and assuming that in the next bull market, Chia will be worth $1374 per unit, we can further refine the profitability calculations for our mining rigs. I want to emphasize that you can find the full details of our farms in our offer - we are also open to cooperation with business partners and have a special offer for them.
Now, let's get down to business.
For a month, it would look like this:
30 mined XCH x $1374 = $41,220 (about 164,880 PLN, assuming a USD to PLN exchange rate of 4 PLN)
Electricity cost: about 300 PLN
…I think this comparison speaks for itself.
To avoid being merely speculative, I also invest my time and money in Chia. I have my own mining rig and believe in this project, based, among other things, on the above calculations. However, I want to make it clear (once again): this is SOLELY MY OPINION. I don't provide investment advice, and I don't encourage anything. I'm just personally convinced that, considering the development of the Chia Network project, the biggest risk would be to miss out on this investment opportunity. That's why I started the Crypto Mines website and try to educate the international community about the project as best I can. I encourage you to follow the articles I publish here and form your own opinion about the Chia Network project.